Beef and Stout Casserole with Colcannon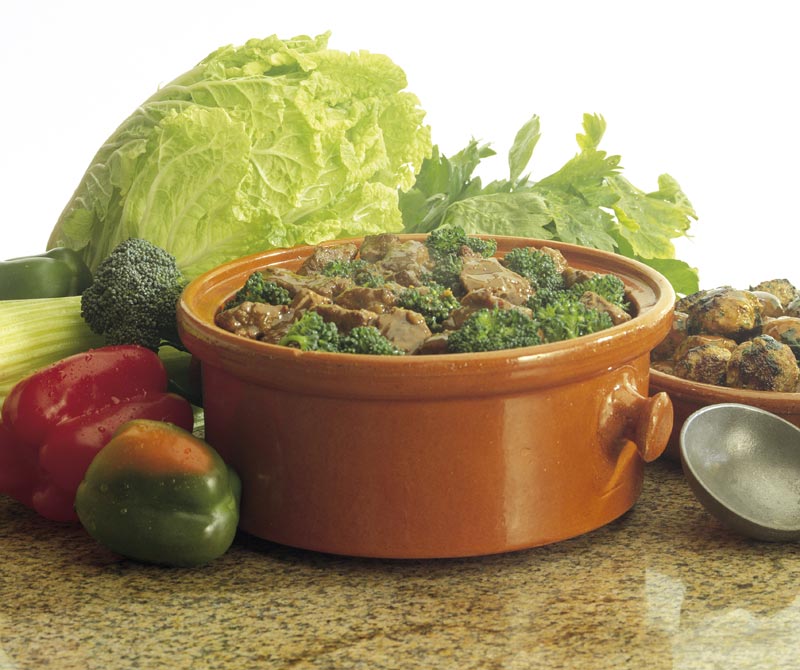 A delicious, rich and satisfying dish. It will taste even better if made a day or two ahead. Add the broccoli when you reheat.
Serves 4-6
Ingredients
2 tablesp. oil
1 kg rib steak, well trimmed and cut into cubes
2 onions, thinly sliced
2 cloves garlic, chopped
1 tablesp. soft dark brown sugar
1 tables. plain flour
125ml Stout
125ml water
Sprig of thyme
1 tablesp. red wine vinegar
1 tablesp. Dijon-style mustard
Pinch of ground cloves
Salt and black pepper
250g fresh broccoli (optional)
Colcannon:
1kg potatoes, peeled, roosters work well
250g curly kale, well washed and finely sliced, discard any thick stalks
100mls milk
100g butter
Salt and freshly ground black pepper
To Cook
Set oven Gas Mark 3, 160°C (325°F).
Heat the oil in a frying pan.  In it brown the chunks of beef, a few pieces at a time.  Remove the meat as it browns to a casserole.
Add the onion and garlic to the pan and cook for a few minutes, sprinkle in the sugar and flour, stir it around to soak up the juices, then gradually stir in the Stout and water, stirring all the time.
Add the thyme, wine vinegar, mustard, ground cloves and seasoning; bring to the boil and pour it over the meat in the casserole.
Put the lid on and cook in the oven for 1½ hours or until the meat is tender.  Approximately 20 minutes before the end of cooking time add the broccoli to the casserole.
Delicious served with Colcannon (See below).
Colcannon:
Cook the potatoes in a covered pan of boiling salted water for 15-20 minutes until tender.
Meanwhile, cook the kale. Heat a knob of butter and two tablespoons of water in a heavy-based pan with a lid. When the butter has melted and formed an emulsion, add the kale with a pinch of salt. Cover, shake well and cook over a high heat for 1 minute. Shake the pan again and cook for another minute. Drain off any liquid and then season the kale with pepper.
Drain the potatoes, add in the milk and mash until smooth, then beat in the kale and the remaining butter. Season to taste with salt and pepper.
Note:
If curly kale is not available you can use finely chopped scallions which you add into the potatoes with the milk. Savoy cabbage also works well – use the same method as for the kale.
Recipe provided by Bord Bia.