Pan Fried Duck Breasts with Red Wine and Orange Sauce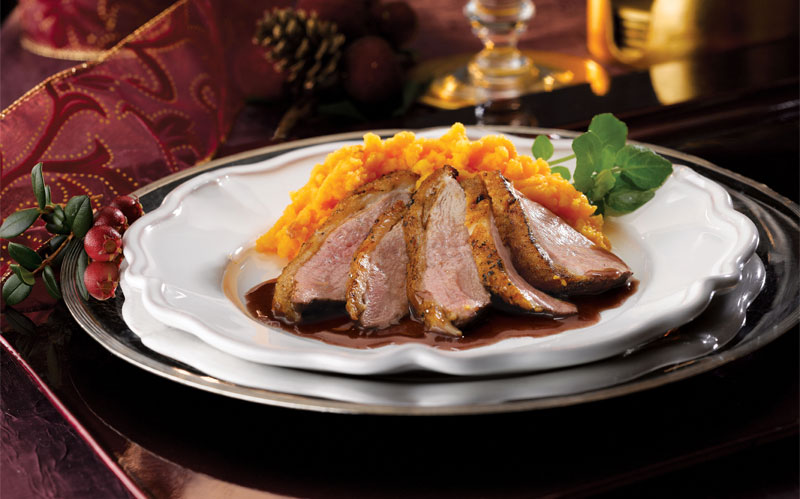 This is a delicious quick dish that everyone will enjoy.
Serves 4 
Ingredients
4 duck breasts, well trimmed
2 shallots, finely chopped
300mls red wine – approx. 2 glasses
Zest of 1 orange
Juice of 2 oranges
Salt and black pepper
2 teasp. redcurrant jelly
1 teasp. cornflour mixed with 1 tablesp. water
To Cook
Heat a large pan.  Score the skin on the duck breasts and place them in the hot pan, skin side down.  You don't need any oil in the pan.  Brown well then remove to a plate.  Pour off most of the fat – leave about 1 tablespoon in the pan.
Add in the shallots and cook for about five minutes to soften.
Add in the red wine, orange zest, orange juice and seasoning and bring to the boil.
Place the duck breasts back in the pan and simmer for ten minutes.
Remove the duck from the pan and cover with foil to keep warm while you finish the sauce.
Add the redcurrant jelly and cornflour mixture into the pan and bring to the boil, stirring all the time.
Reduce to simmer for a couple of minutes.
Serving Suggestions
Slice the duck breasts and place on serving plates. Spoon the sauce around the duck and serve. Delicious with a puree of potatoes and carrots.
Recipe provided by Bord Bia.