Week 2
Saturday: Chicken Fajitas served with parmasan and paprika wedges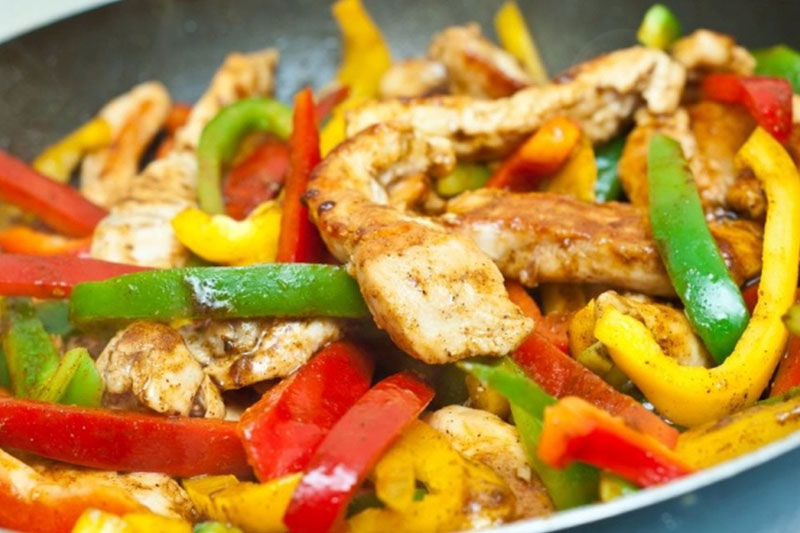 Ingredients
½ teaspoon of cumin
¼ teaspoon of garlic
1 teaspoon of Chilli Powder
2 teaspoons of olive oil
Pinch of salt
1 chopped red pepper
1 finely chopped onion
2 chopped chicken fillets
8 Flour tortillas
To Cook
In a resealable bag place the cumin, chilli powder, garlic, olive oil and salt.  Mix it around a bit.
Add in the chicken, red pepper and onion.
Place it in the fridge to marinate for 15-20 minutes.
Heat up a frying pan.  Add the contents of the bag to the frying pan.
Cook until the vegetables are crisp and the chicken is cooked through.
Wrap the tortillas in foil and warm them up in the oven.
Wrap the meat and vegetables in the tortillas and serve them with salsa, guacamole and/or sour cream.
Parmesan and Paprika Wedges
Ingredients
4 potatoes
3 tablespoons of extra virgin olive oil
1 tsp of paprika
½ cup of parmesan
Salt & pepper to season
To Cook
Preheat the oven to 200 degrees Celsius.
Cut the potatoes into wedges by cutting them lengthwise and then slicing each into 3 pieces.
Place the potatoes, salt & pepper, paprika and extra virgin olive oil into a zip lock bag and toss until the potatoes are coated.
Line the potatoes up on a baking tray in a hot oven.  Cook for 30-40 minutes until the potatoes are golden brown and crispy.  Sprinkle the parmesan over the potatoes and return to the oven for a final 5 minutes.