Chicken Breasts in White Wine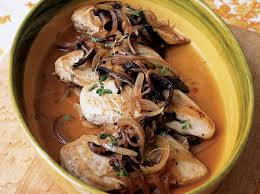 This is a great recipe that's really easy. The red onion is so sweet and the sauce is lovely especially with mashed potato. You could substitute the red onions for any other vegetables you like, leeks work very well.

Olga, customer of Gleeson Butchers Blanchardstown

Serves 4
Ingredients

1 tbsp rapeseed or sunflower oil
4 bacon rashers, cut into small pieces
4 chicken breasts on the bone
1 shot sherry
1 glass white wine
½ pint chicken stock
2-3 red onions, cut into quarters

Method

Preheat the oven to 180oC.
Heat the oil in an oven proof pan and cook the rasher pieces until golden.
Add the chicken to the pan, skin side down, cook for 3 or 4 minutes until the skin is brown and turn over.
Add the wine and sherry and cook for a few minutes, then add the stock and red onions (ensure the onions are covered by the liquid).
Transfer to the oven and cook, uncovered, for 30-40 minutes or until the chicken is cooked through.
Serve the chicken with the onions on top with plenty of the juices.