Bacon, Spinach and Cheese Tart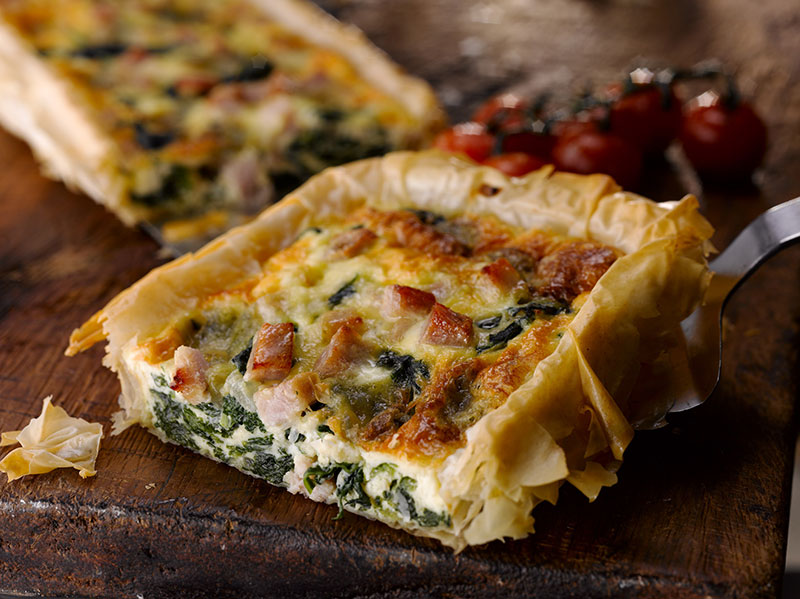 This tart is delicious hot or cold. If you haven't got the correct flan tin use a similar sized small baking dish or roasting tin, which will do the job just as well. This is perfect for using up leftover ham or bacon from a joint.
Serves 4 
Ingredients
50g butter, plus extra for greasing
100g cooked ham or loin of bacon, cut into cubes
1 small onion, finely chopped
350g fresh spinach, washed, well drained and tough stalks removed
5 sheets filo pastry, thawed
75g cheese – strong cheddar or blue cheese
3 eggs
6 tablesp. of reduced fat crème fraiche
Salt and freshly ground black pepper
Lightly dressed green salad and boiled new potatoes, to serve Crème
To Cook
Preheat the oven to Gas Mark 4,180C (350 F). Lightly butter a 35 x 11cm loose-bottomed flan tin. Heat a large non-stick frying pan. Add a knob of the butter and cook the onion for 4-5 minutes until softened but not coloured. Stir in the spinach and cook for a few minutes until wilted, stirring. Turn the mixture into a sieve and press well with a wooden spoon to squeeze out all of the excess liquid.
Melt the remaining butter in a small pan or in the microwave. Lay one sheet of filo across the base of the tin with the edges slightly overhanging the sides. Brush with melted butter. Repeat with the remaining sheets, arranging them at different,
overlapping angles.
Spoon the spinach and onion mixture into the pastry case and scatter the ham or bacon on top, then grate or crumble over the cheese. Beat together the eggs, crème fraiche and seasoning in a bowl, then pour into the pastry case. Bake for 30
minutes until the filling is set and the filo pastry is golden. To serve, cut into slices and arrange on plates with salad and new potatoes.
Nutritional Analysis per Serving

Protein: 20g
Carbohydrates: 42g
Fat: 37g
Iron: 1.9mg
Energy: 583kcal
Recipe provided by Bord Bia.