Week 5
Thursday: Citrus Marinated Lamb Chops with Moroccan Style Tomato Salad
Tasty succulent lamb chops make the perfect summertime midweek meal or weekend lunch. Packed full of flavour and ready in minutes – what more could you ask for!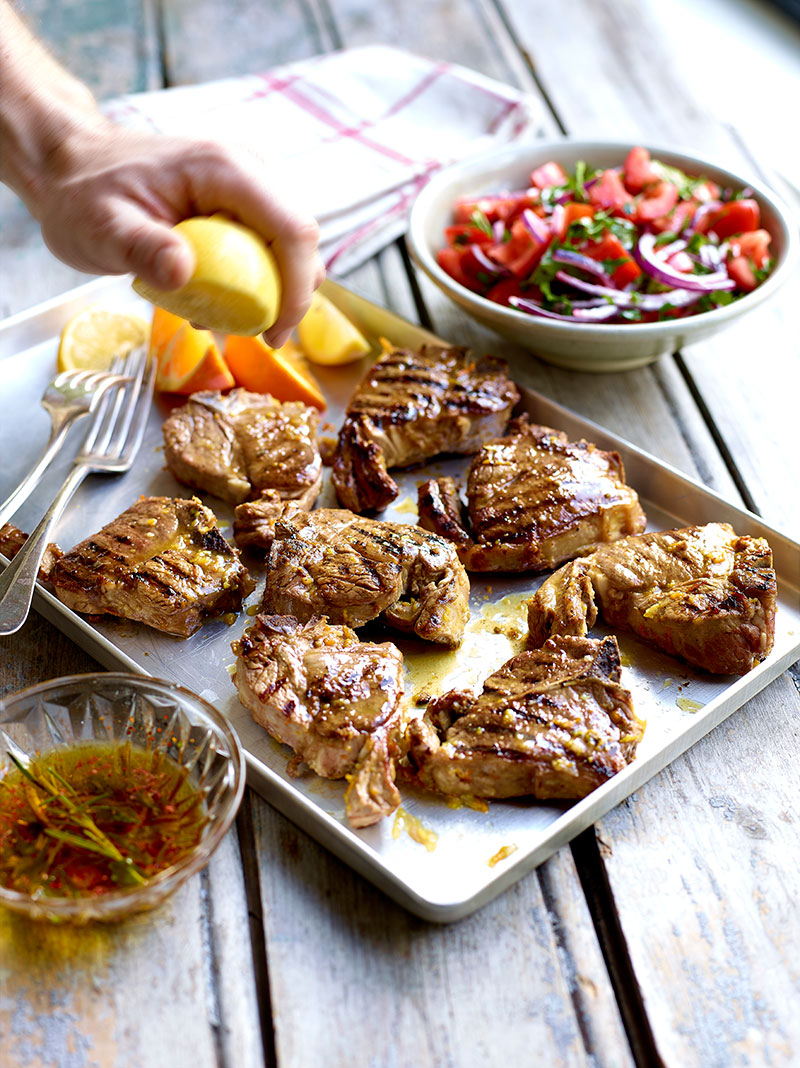 Serves 4
Cooking time: 8 minutes
Preparation time: 20 minutes 
Ingredients
Chops
4 lamb chops or steaks
1 lemon, zest and juice
1 orange, zest and juice
Pinch of cinnamon
3 tablespoons garlic-infused olive oil
Tomato Salad
6 tomatoes, deseeded and chopped
½ red onion, peeled and chopped
2 tablespoons of flat-leaf parsley, chopped
2 tablespoons of mint, chopped
1 teaspoon cumin powder
1 lemon, juice only
4 tablespoons extra virgin olive oil
Salt and pepper
To Cook
Put one tablespoon of both the orange and lemon zests, the lemon juice and juice of half the orange into a dish and add the cinnamon and garlic olive oil. Mix together and coat the lamb chops all over with the marinade. Cover and leave to marinate for at least 30 minutes.
Prepare the salad: Mix together the tomatoes, red onion, parsley, mint, cumin, juice from the second lemon, olive oil and seasoning.
Pre-heat the griddle or barbeque. Drain the lamb chops and remove any excess marinade. Cook on the griddle or barbeque for 3-4 minutes on each side on a medium heat. Leave to rest for 2 minutes.
Serve with the tomato salad and bread.
The meat will be even tastier if you leave it to marinate for longer. Remove from the fridge 30 minutes before cooking.
Recipe provided by Bord Bia.