Week 1
Thursday: Bacon Leek and Mushroom Pie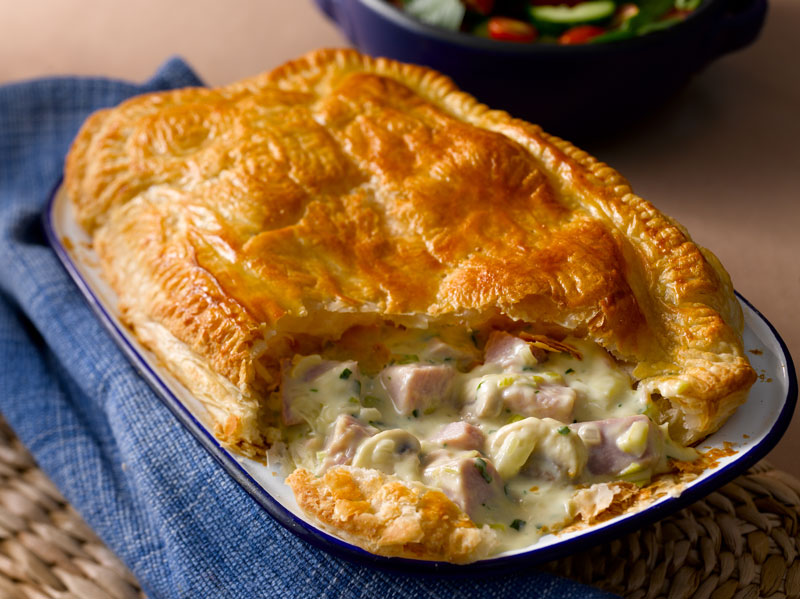 Ready rolled puff pastry makes this pie really quick to make.   
Serves 4 
Preparation time: 40 minutes 
Ingredients
500g cooked ham/bacon, cut into chunks
50g butter
2 leeks, washed and thinly sliced
1 large onion, finely diced
100g mushrooms, washed and sliced
1 tablesp. of flour
250ml milk
1 tablesp. Dijon-style mustard
1 tablesp. fresh tarragon or flat-leaf parsley
Freshly ground black pepper
1 x sheet of puff pastry
1 egg beaten with a little milk
To Cook
Preheat the oven to Gas Mark 6, 200°C, (400°F).
Heat a large pan over a medium heat, add in the butter then gently sauté the leeks, onions and mushrooms until soft. Add in the flour and cook for a minute, then gradually stir in the milk. Continue to cook, stirring all the time until mixture thickens and begins to boil. Then add in the ham, mustard, tarragon and black pepper, then check for seasoning.
Pour into a pie dish. Cover with a sheet of puff pastry, brush with the beaten egg, make a slit in the top of the pie and bake for 30 minutes until the pastry is golden. Serve with salad.
Serving Suggestions
Green salad with chopped tomatoes and cucumber
Nutritional Analysis per Serving

Protein: 39g
Carbohydrates: 27g
Fat: 43g
Iron: 2.19mg
Energy: 662kcal
Recipe provided by Bord Bia.