Roast Shoulder of Pork with Crackling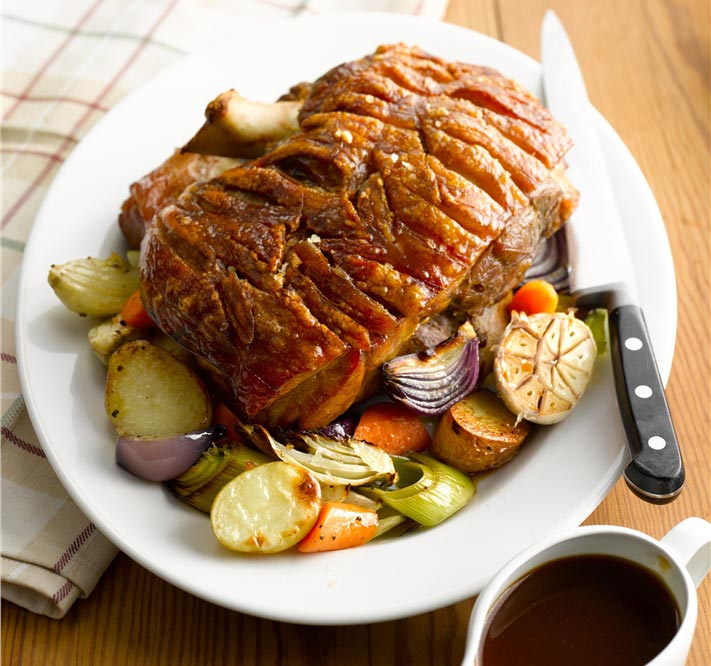 This is both delicious and really great value.  Any leftovers can be used in the Pulled Pork Sandwiches
Serves 8 
Cooking time: 4½ Hours 
Ingredients
2½kgs shoulder Pork, bone-in and fat scored
Sea salt and freshly ground black pepper
2 red onions, quartered
2 carrots, peeled and chopped
2 sticks celery, chopped
2 bulbs of garlic, cut in half
Few sprigs of rosemary
2 lemons roughly chopped
1 tablesp. flour
600mls water or stock
1 teasp. redcurrant jelly
To Cook
Heat the oven to Gas Mark 7, 220°C (425°F).
Place the pork in a roasting tin, skin side up. Rub a tablespoon sea salt into the skin of the pork. Place in the hot oven and roast, uncovered, for 30 minutes. Then reduce heat to Gas Mark 3, 170°C (325° F). Cover the meat with tin foil and roast for a further 3 hours.
Take the roasting tin out of the oven and remove the tin foil. Spoon the juices from the bottom of the pan over the meat then place the vegetables, herbs and lemons around the joint. Leave the roasting tin uncovered and return it to the oven for another hour.
For the last half an hour increase the oven temperature to Gas Mark 4, 180°C (350°F). At this stage toss additional chopped vegetables in olive oil and a tablespoon of the fat from the bottom of the roasting tin. Season and place, in a separate roasting tin in the oven.
When the pork is cooked remove it from the oven and place on a large plate or board. Cover with tin foil and allow to rest while you make the gravy.
Strain off some of the fat from the roasting tin then stir the flour into the remaining juices. Place over a medium heat and continue stirring with a wooden spoon. Gradually add in the stock or water and bring to the boil. Simmer for a couple of minutes then strain through a sieve into a saucepan.
Discard the vegetables that were cooked in the roasting tin with the pork. Add the redcurrant jelly to the strained liquid and boil for a couple of minutes until the gravy thickens.
Serve the sliced pork, crackling and gravy with the additional roast vegetables and potatoes.
Nutritional Analysis per Serving
Protein: 69g
Carbohydrates: 38g
Fat: 28g
Iron: 4.6mg
Energy: 659kcal
Recipe provided by Bord Bia.