Week 4
Saturday: Soy & Honey Prawns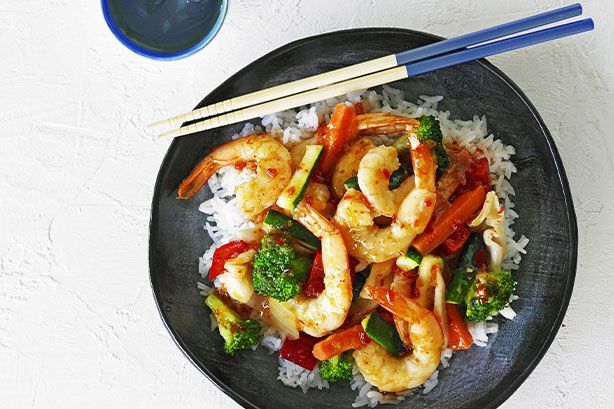 Very tasty and simple to make!
Serves 4
Ingredients
20-25 large prawns
2 tbsp soy sauce
2 tbsp oyster sauce
2 tbsp honey
2 tbsp oil
1 tbsp fish sauce
1 chilli, finely chopped
½ tsp black pepper
½ tsp salt
Mixed vegetables (Gleesons Mediterranean veg mix)
To Cook
Peel and de-vein the prawns leaving the tails on.
Combine all other ingredients (except veg) and marinate prawns for 30 minutes.
To cook, place 2 tablespoons of oil in a wok, add vegetables and stirfry for 3 minutes.
Add prawns and marinade and stirfry for a further 3 minutes or until prawns are cooked through and vegetables are cooked but still crunchy.
Add a little water during cooking if stirfry is dry.
Serve with rice.
Also delicious with chicken, but increase cooking time by 5 minutes to ensure chicken is cooked through.