Chicken Portions with a Sticky Glaze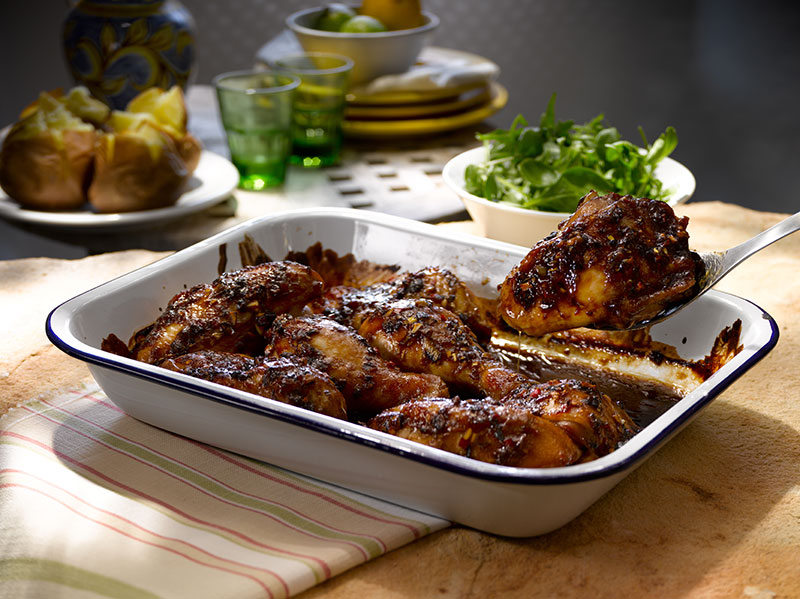 Ask your butcher to cut a full chicken in portions or else buy a pack of chicken portions with skin on.
Serves 4
Cooking time: 50 Minutes 
Ingredients
1 whole chicken, cut into 8 portions or a pack of drumsticks, breasts or thighs
2-3cm piece of fresh ginger, peeled and grated
1 red chilli, deseeded and finely diced
1 red onion, finely diced
4 tablesp. teriyaki sauce
2 tablesp. honey
100mls oyster sauce
To Cook
Set the oven to Gas Mark 6, 200°C (400°F).
In a large bowl mix together the ginger, chilli and onion then combine well with the teriyaki sauce, honey and oyster sauce. Add in the chicken portions and coat them in the sauce.
Place in an ovenproof dish and roast in the hot oven for 45 minutes.
Serve with baked potatoes and salad and the spoon over the sauce from the baking dish. Chinese Chilli Sauce (Sambal Oeleck) on the side gives an extra hit of spice.
Serving Suggestions
Baked potatoes, green salad and Chinese Chilli Sauce if available.
Nutritional Analysis per Serving

Protein: 52g
Carbohydrates: 57g
Fat: 22g
Iron: 2.5mg
Energy: 532kcal
Recipe provided by Bord Bia.