Barbecued Chicken with Harissa Dressing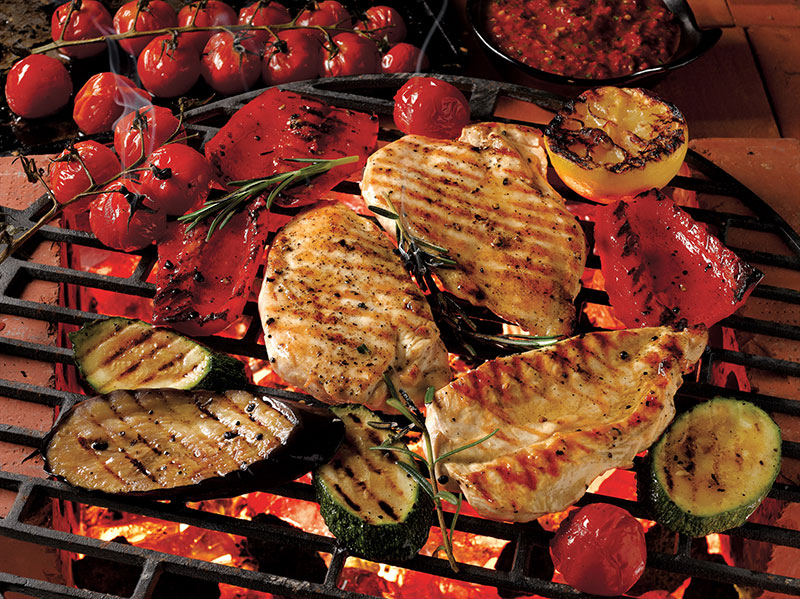 You can buy ready prepared Harissa but it is no comparison to the flavour of homemade – see how easy it is to prepare
Serves 4 
Ingredients
4 chicken breasts, skin on
Juice of 1 lemon
1-2 tablesp. olive oil
Salt and black pepper
Harissa Dressing
1 red pepper, roasted, skin removed and chopped
2-3 cloves garlic
3-4 chillies, roughly chopped
1 teasp. ground cumin
1 teasp. ground coriander
Handful coriander leaves
4 tablesp. olive oil
Juice of a lemon
To Cook
An hour or two ahead if possible place the chicken breasts in a shallow dish.  Pour over the lemon juice, olive oil and seasoning.
Grill or barbecue until fully cooked.
To make the dressing:  Put all the ingredients in a food processor.  Process to form a thick sauce.    Any leftovers will keep in the fridge for at least a week.
Serving Suggestions
Serve with the chicken, some steamed new potatoes and vegetables or salad.
Recipe provided by Bord Bia.